Another Eden Global Version: World Tour Campaign Information - Details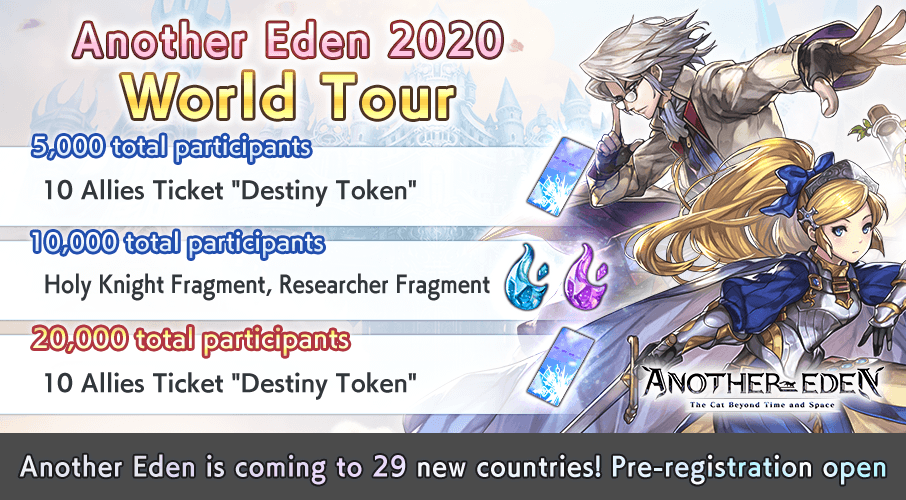 Information
We are celebrating the expansion of Another Eden Global Version to 29 countries around the world including South Asia, Central/South America, Europe, Africa. To celebrate this occasion, we are holding a campaign where bonuses increase as more people participate.
Bonus when participants exceed 5,000 people: 10 Allies Ticket "Destiny Token"
Bonus when participants exceed 10,000 people: Ticket to get Anabel (4★ class) "Holy Knight Fragment," and a ticket to get Krervo (4★ class) "Researcher Fragment"
Bonus when participants exceed 20,000 people: 10 Allies Ticket "Destiny Token"
How to Participate in the Campaign
You can participate in the campaign by completing any of the following.
Campaign Participation Duration
From February 10, 2020 to the day before the expansion
How Participation is Calculated in the Campaign
Participation is calculated from the total of all campaign services (in all global release countries).
How to Collect Bonuses
The 5,000 participants bonus and 10,000 participant bonus can be received after the expansion release date by updating the app to version 2.1.300 or higher and then logging in to the app.
The 20,000 participants bonus is scheduled to be delivered within 3 weeks of the expansion release date.
The time limits to receive each bonus will be announced via in game announcements and social media.
The countries and territories where accounts can receive the bonuses are listed below.
U.S.A., Canada, Australia, Singapore, Korea, Taiwan, Hong Kong, Macao, Bulgaria, Czech Republic, Denmark, Germany, Estonia, Ireland, Greece, Spain, France, Croatia, Italy, Cyprus, Latvia, Lithuania, Luxembourg, Hungary, Malta, the Netherlands, Austria, Poland, Portugal, Romania, Slovenia, Slovakia, Finland, Sweden, U.K, Indonesia, Thailand, Philippines, Vietnam, Malaysia, Myanmar, New Zealand
Countries Newly Released in: India, Federative Republic of Brazil, Islamic Republic of Pakistan, Federal Republic of Nigeria, Russian Federation, United Mexican States, Arab Republic of Egypt, Republic of Turkey, Republic of South Africa, Republic of Colombia, Republic of Kenya, Argentine Republic, People's Democratic Republic of Algeria, Ukraine, Republic of Uganda, Uzbekistan, Democratic Socialist Republic of Sri Lanka, Kazakhstan, United Arab Emirates, Swiss Confederation, State of Israel, Hashemite Kingdom of Jordan, Kingdom of Norway, Lebanese Republic, State of Kuwait, Sultanate of Oman, Kingdom of Bahrain, Iceland, Principality of Liechtenstein
Caution
The campaign is subject to cancellation or change without notice.
Fees from internet access and data usage accrued for the purposes of this campaign are the responsibility of the participant.
Inquiries for this Campaign
Please submit inquiries about the Campaign to the corresponding Another Eden Twitter account or the comment section of the Official Facebook page.